What reminds you of Fall? For me it is crisp cooler weather, tailgating, and watching football with friends while a fire burns in the fireplace. And what could be better than making a big pot of chili to share while you enjoy the game?! 
Our Chili-licious Delicious Chili Seasoning is the perfect blend of chili powder, cumin, smoked paprika, cayenne, spices, and just a hint of red pepper flakes. People like their chili many different ways. To me, the recipe I am going to share is a quick and easy base that you can tweak according to who you are making it for. I like my chili "plain" like this…Just ground beef, beans, 3TBSP Chili-licious Delicious Seasoning, tomatoes, and finished on top with lots of cheddar cheese (it's a Cincinnati thing). Some people like to doctor it up with bell peppers, onions, and even celery and mushrooms! That is the wonderful thing about making chili!! 
How do you like your chili?! Be creative!   
Before I share my recipe, let's talk why chili is GOOD for you! 
 PROTEIN The meat in your chili is an excellent source of protein and if you make your chili with beans, you have a great second source of it too. Even if you make vegetarian chili with beans, it can be a great source of protein. 
FIBER You need fiber in your diet and the chilies, peppers, and beans in this dish are excellent sources of it. Fiber not only works to help keep you regular, but it also slows the rate at which sugar is absorbed into your body. If you're a diabetic, this will be good for you because it keeps your blood glucose level from rising and falling too quickly. 
IRON The iron in the beans in your chili is also good for you. A lot of people don't get enough iron in their daily diet. 
REGULATE BLOOD SUGAR Chili can help to regulate your body's blood sugar after you eat it since chili peppers can lower your body's sugar levels and the amount of insulin your body needs.   
So, for all those reasons, let's get to the recipe!    
This chili recipe has a perfect blend of my Chili-licious Delicious Chili seasoning, ground beef/turkey and beans. It's Stove Top or Crock Pot friendly and will quickly become your favorite.   
Brown 1 LB ground beef (Ground Beef- 80% lean is good for chili) or ground turkey in large soup pot.
Drain grease from ground beef or ground turkey and add:  
2-4 TBSP Chili-liscious Delicious Chili Seasoning (2 TBSP for mild chili, 3-4 TBSP for more heat, depending on heat preference)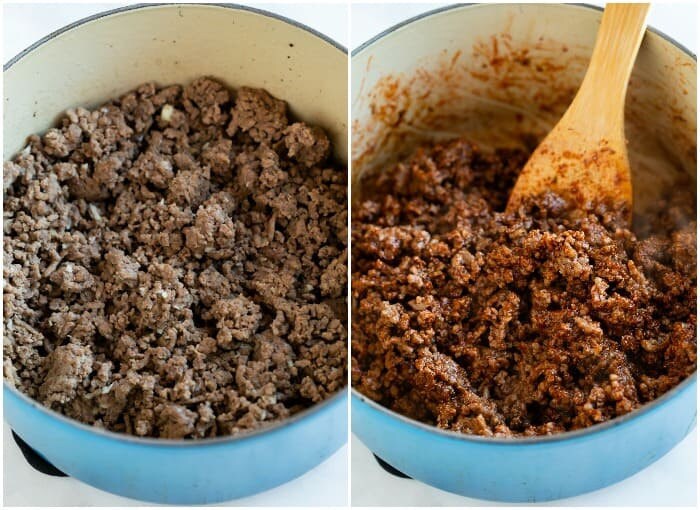 Now add Two 15 oz cans Diced Tomatoes 
Two 15 oz can Tomato Sauce 
One 6 oz can Tomato Paste,
 One 15 oz cans water    
Then add, two 15-ounce cans kidney beans drained and rinsed. (I like to use one can of light kidney beans and one can of dark)
Cover and simmer on low for 1 hour stirring from time to time.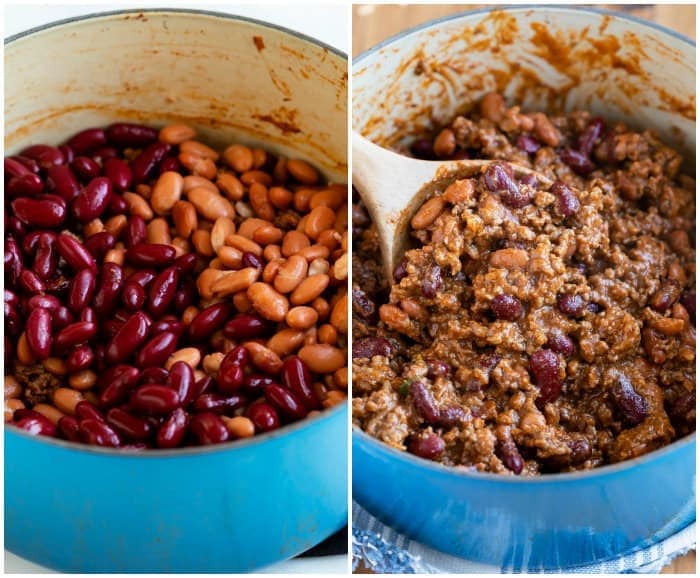 Can You Freeze Leftover Chili? Yes! Chili is a great recipe to make in bulk and freeze for future meals. You can thaw and reheat it in the microwave or thaw it in the microwave and reheat on the stove top. 
Storage: This chili should be stored in an airtight container in the refrigerator for up to 3 days or in the freezer for up to 3 months.